Marketing on Facebook is not optional. With 2.29 billion daily active users, Facebook is the most popular social site in the world.
It's not all vacation pics and humblebrags. Social media is the key source of brand research for 53.2% of internet users aged 16 to 24. Similarly, 66% of all Facebook users visit a local business page at least once a week.
So the truth is that you need to be on Facebook.
But first, what should you do? Do you need to run ads? What should your next post be all about? Is building a business page similar to joining the metaverse?
All of your questions will be answered, and a step-by-step process will be provided to get you started on your Facebook marketing journey.
Table of Contents
1. What is Facebook marketing?
Facebook marketing is the practice of promoting a business's or brand's visibility on Facebook. It can assist businesses in boosting brand awareness, creating an online following, generating leads, and selling more products or services.
Facebook marketing campaigns may include the following:
Organic text, photo, or video content
Paid, or "boosted," text, photo, or video content
Facebook Groups
Contests and giveaways
Facebook Messenger chatbots or auto-responders
Influencer marketing campaigns
2. How to set up Facebook for business
For those working with a limited or zero budget: You can do Facebook marketing completely for free.
You may also speed your growth by using paid services like Facebook ads, boosted content, or influencer or partnership campaigns.
Let's begin at the beginning: your business's Facebook page. You must have a page, whether you only do this and share organic content or you follow the rest of the tips in this article.
– Create a Facebook Business Page
1. Sign in to Facebook with your personal account. Your personal information won't show on your Page, but you can also create a new Facebook account with a work email address if you prefer.
2. Open the menu (the nine dots on the right side) and click Create, then Page.
3. To create your Page, enter:
a. Name: Your business name
b. Category: Start typing to see the available options. For example, "retail" or "restaurant."
c. Description: A sentence or two describing what your business does. You can edit this later.
4. Congrats! Your Page is live. Click Edit Page Info to add more to your About section, add a website URL, and more. I'll cover exactly how to optimize your new Page later in this article.
– Get verified on Facebook (optional)
You don't need it, but it helps. How do you get that little blue checkmark like the cool brands?
Verified Pages show that Facebook has verified that the person or brand is who they claim to be. It shows trust (which is key given that 72% of people distrust Facebook).
Getting verified is technically as simple as filling out a form. But Facebook only verifies the accounts and pages of businesses and well-known public figures.
Profiles can be difficult to verify, but businesses of all sizes can do so very easily, especially if they have a physical location. The idea is to use independent, non-promotional content from high-quality sources for your proof of identity links.
– Open a Facebook ads account (optional)
Even if you don't plan to use Facebook ads right away, it's a good idea to set up an account.
Go to Facebook Ads Manager once you've created a business page (now part of the Meta Business Suite). You may use an existing Facebook ads account or create a new one by following the steps.
You may now start an automated campaign, build your own campaign from scratch, or promote ("boost") existing page content.
Are you sure you're ready for Facebook ads? Later in this article, I've got tips on when and how to start.
3. How to create a Facebook marketing strategy in 7 easy steps
– Define your audience
Before you do anything, define your ideal potential customer and what they want on Facebook. Create a marketing and content strategy based on that.
This is mentioned in every article about social media marketing.
…because it is true.
At the very least, you should define your target audience by answering the following questions:
What age range do they fall into?
Where do they live?
What types of jobs or job responsibilities do they have? (Most relevant for B2B brands.)
What problem do they have with [your industry or product]? (And how are you the solution?)
How and when do they use Facebook? (Doom scrolling before bedtime at work or at home?)
Not sure where to start? If you already have followers on your Facebook page, check out Audience Insights inside Meta Business Suite to see the demographics of your existing audience.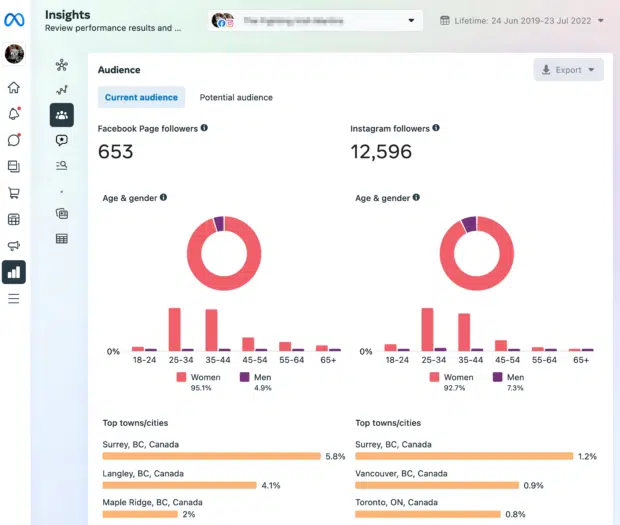 Meta's Insights area offers more than basic info, including:
Education attainment
Relationship status
Location
Interests and hobbies
Languages spoken
Facebook usage statistics
Past purchase activity
Do your data reflect the customers you want to attract? Excellent work, keep it up. Not at all. Adjust your content strategy as needed, and keep an eye on your Insights to see what works for shifting your audience to the one you want.
If you want to test using Facebook advertising, this information can also be used for ad targeting.
– Define your goals
Why do you want people to follow you? What exactly do you want them to do? Most companies' reply is, "Buy something."
But, it is not always about money. Other common objectives for a Facebook Page include:
Build brand awareness
Improve customer service
Maintain a consistent brand image across social media
Bring in traffic to a physical location
Your Facebook marketing goals will be defined by your entire marketing plan. (Do you need a refresher? We have a free marketing plan template ready for you.)
– Plan your content strategy
No need to overcomplicate this. Your content strategy is:
What you'll post
When you'll post it
What to post
Will you share any behind-the-scenes information about your process? Will you offer special discounts? Will you keep it all business or put in some fun and games?
Let your imagination run wild with ideas.
— Ha! I'm kidding. You're going to upload anything your audience asks, right? You did all that research in Step 1, right?
But creativity is encouraged. Integrate your knowledge of your target audience with what you think will perform well.
Analyze your Facebook content plan in terms of buckets. Each bucket represents a topic.
For example:
Industry news
Company news
Tuesday Tips, where you share a short tutorial for your software
Reviews/testimonials
New products and promotions
You get the idea. And do you know what makes everything more fun, including creativity? Rules!
Consider the following classic social media content strategy rules:
The rule of thirds: One-third of your content is your ideas/stories, one-third is direct interaction with your audience, and the last third is promotional content.
The 80/20 rule: 80% of your content should inform, entertain, and educate, and the remaining 20% can be promotional.
When to post it
Once you've decided what to post, deciding when to post it is the last puzzle piece.
As previously said, Facebook Audience Insights can be useful here, but our research has revealed that the best times to post on Facebook are between 8:00 a.m. and 12:00 p.m. on Tuesdays and Thursdays.
Not so fast. That is a broad generalization. Experiment, just like anything else in your strategy! Try different times and see when you get the most engagement.
The ARF Services Planner makes it simple to stay on track. Everyone on your team can see upcoming posts, collaborate on draughts, and identify any gaps before they become content emergencies.
What's the best part? Based on your personal data, ARF Services' advanced analytics will tell you when the best times to post are.
– Optimize your Page
Whether you've just set up your Facebook business Page or had one for a while, make sure you have:
A profile photo—your logo works great—and a cover photo. (Check our social media image size guide for current specs.)
A call to action button, such as Book Now.
Contact information, including URL, phone number, and email address.
A detailed about section.
A pinned post with your latest promotion, offer, or FAQ.
A custom Page URL. (For example www.facebook.com/arfservices)
An accurate business category. (Ours is a "Software company.")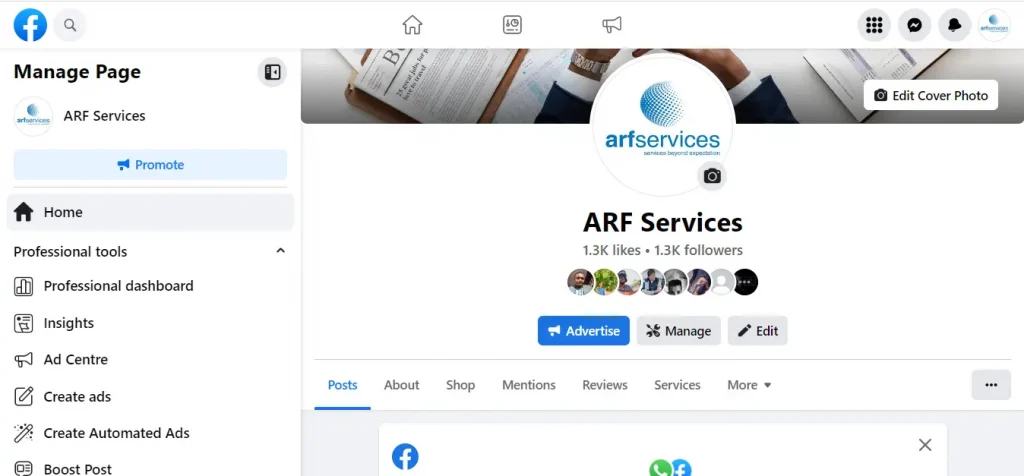 If you have a physical location, make sure to include a street address.
If you're an eCommerce business, use Commerce Manager to display your products in the new Facebook Shop tab. Not sure how? Here's how to set up a Facebook Shop.
– Try other Facebook tools
Create a Facebook Group
Groups require a lot of moderation and attention to be successful, but they can earn powerful results.
Try Facebook Marketplace for local sales
While you might think of Marketplace as a modern-day replacement for Craigslist, it's also an effective business sales channel.
Facebook Marketplace ads have the potential to reach 562.1 million people by 2022. While most sellers are people cleaning out their basements, business listings are welcome, including in lucrative categories like car and real estate sales (where regional laws permit).
Listings are completely free to establish, making it a must-try for local businesses. Consider promoting your shop website if you sell nationally.
– Install Meta Pixel (formerly Facebook Pixel)
Meta Pixel is a small piece of code installed on your website to allow tracking, testing, targeting, and analytics for Facebook and Instagram ads. You only have to set it up once per website.
To install Meta Pixel:
1. Log in to Facebook Events Manager. In the left menu, click Connect data sources.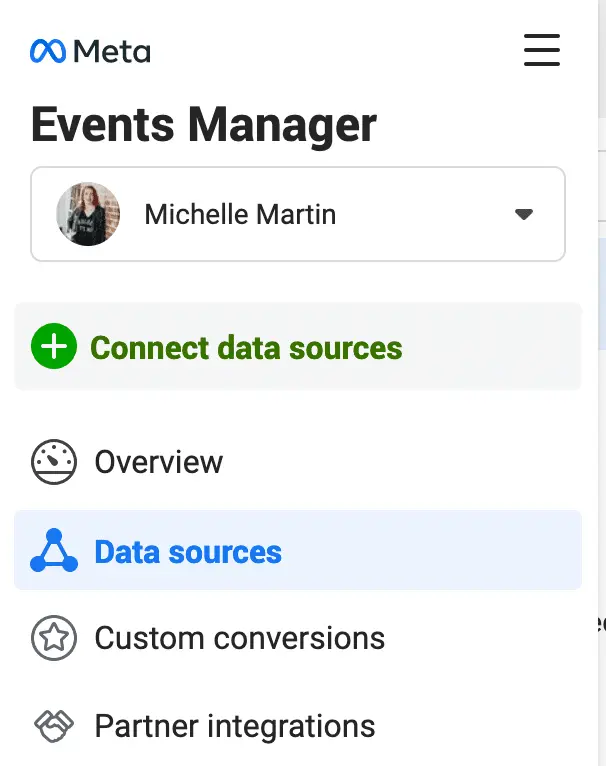 2. Choose Web as the data source and click Connect.
3. Name it and enter your website URL. Depending on what your website runs on, there may be a one-click integration available. If not, follow the prompts to install the code manually.
4. Set up the events you want to track. From your Pixel's Overview tab, click Add Events, then From the Pixel.
5. Enter your URL and click Open website. You'll be able to select buttons on your site to track as an Event with your Pixel. No coding is required. Assign each button a role, such as "Purchase," "Contact," "Search," and more. Ensure your browser allows pop-ups for this to work properly.
– Try Facebook advertising
Facebook ads may increase traffic and sales, but starting up can be hard.
You're probably also interested in the cost of Facebook ads. (Spoiler: it varies. You are most welcome.)
Facebook ads have the largest potential audience reach of any social site, with levels of up to 2.11 billion people by 2022. In other words, that's 34.1% of the world's population over the age of 13.
For most businesses, Facebook is the ideal place, to begin with, for social media advertising. There's a lot to learn, but we've made it easier with our step-by-step guide to creating your first Facebook ad campaign.
But are you ready?
4. When to start using Facebook ads
The day after you create your sparkling new business page is not the best opportunity to experiment with Facebook ads. But letting someone else choose when you're ready isn't the answer, either. Heh.
Yep, like the majority of marketing things, there isn't one correct answer or KPI that can tell you when to start experimenting with ads.
I think you should have the following things first:
At least 100 Page Likes (followers)
Meta Pixel set up
Clear Facebook marketing goals
At least 20 Page posts (ideally more)
Multiple creative assets for each ad
An A/B testing strategy
– The easy way: Boost a post
"Boosting" a post is the Facebook term for turning a regular Page post into an ad.
The gateway ad that senior content marketers warned you about is boosting. Conversions, audience growth, and a new awareness of digital advertising are all side effects of success.
When to consider it: If you're new to Facebook advertising and want to test the waters, Because you specify your budget well in advance, boosted posts are pretty cheap. Remember that cheap advertising is useless if it is not properly targeted.
– The full monty: Create your first Facebook ad campaign
Ad groups, creative options, launch dates, awareness ads, conversion ads, multiple formats, copy alternative solutions… A full Facebook ad campaign takes a lot of work.
It's worth it. The combination of organic and Paid Facebook content is the secret sauce to achieving all your social media ✨dreams.✨
When to use it: If you need to create focused momentum for a product launch, event, or other promotion, Paid campaigns may work for any budget, but first spend time honing your targeting skills. Experimenting with boosted posts can help you with this.
You know when you see an ad and say to yourself, "Wow, I'm the target market!" like finding A&W serving kids' meals at 5:30 p.m. on a hot summer Sunday when I know turning on the oven will cause my soul to leave my body.
That's how you want your ad's viewers to feel: "This is for me."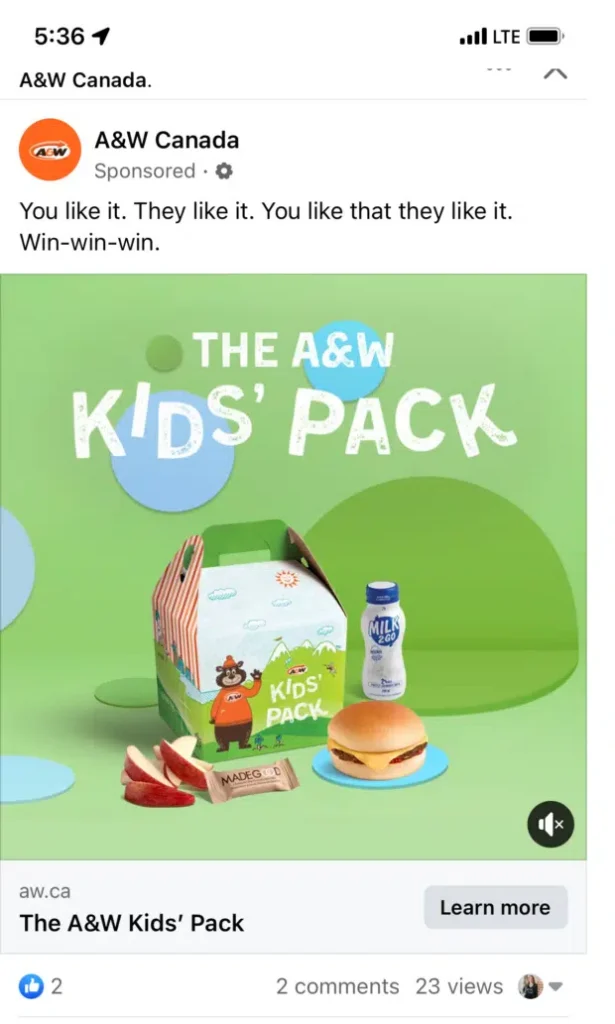 Manage your Facebook business Page, content, ads—and everything for all your other platforms, too—with ARF Services. Plan and schedule posts, run ads, engage with followers, and measure your impact with powerful analytics. Try it free today.