Are you ready to start making money on Pinterest? You've come to the right place. Pinterest is a great place to shop in order to discover content, create boards, and find inspiration. Pinterest is also making it easier for brands to drive traffic and grow their business with new e-commerce features like the Shop tab. Here
Here are 9 ways to start making money on the platform right now:
9 Ways to Make Money on Pinterest
Fun fact: Pinterest is a good sales platform.
According to a Cowen and Company survey, 47% of social media users saw Pinterest as their primary platform for discovering products and shopping, which is more than three times the percentage of respondents who cited Facebook or Instagram.
Ready to get started? Here are 9 ways to make money on Pinterest:
Use Pinterest's Main Shopping Features
Get Discovered With Rich Pins
Offer Pinterest-exclusive Promotions to Would-be Buyers
Promote Your Products With an Ad Campaign
Catch Your Audience's Attention With Video Pins
Create Story Pins to Engage With Your Community
Collaborate with Brands and Creators to Reach New Audiences
Create "Try On" Product Pins
Include Affiliate Links in Your Pins to Earn Commissions on Sales
1. Use Pinterest's Main Shopping Features
Product Pins are the simplest way to sell on Pinterest because they include pricing, availability, and information on where to buy your product, and they direct Pinners to your website to make a purchase.
Catalogs, a data feed that connects your Pinterest account to your website inventory, have made updating Product Pins extremely simple for business owners.
Once set, your Pinterest Product Pins will automatically update when you add or modify products on your e-commerce site.
And, with the introduction of the Pinterest Shop tab, it is now easier than ever to discover your Product Pins – users now have a dedicated space to browse and shop in-stock products.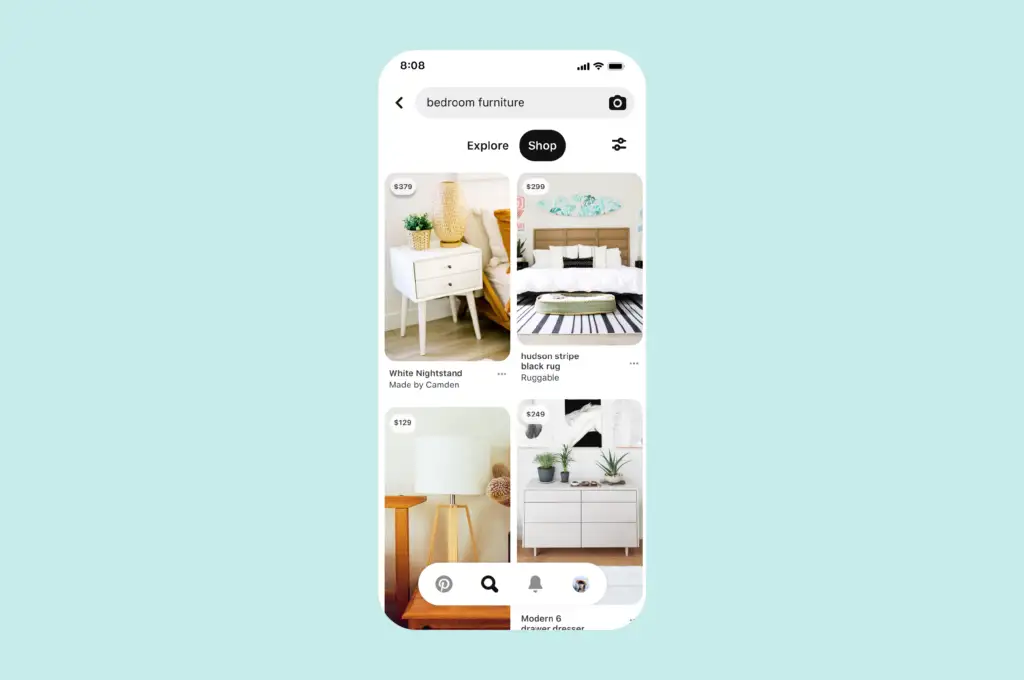 To add Product Pins to your Pinterest for Business profile, follow the steps here.
2. Get Discovered With Rich Pins
Rich Pins are a type of organic Pin that syncs with information from your website automatically.
Rich Pins come in a wide variety, including Products (mentioned above), Recipes, Articles, and App Pins.
Setting up Rich Pins is a great way to drive sales on Pinterest since they provide a direct link to your website and are valuable SEO boosters for a search-first platform.
Add relevant, top-trending keywords to your Pin title and the first 50 words of your description to create a Rich Pin.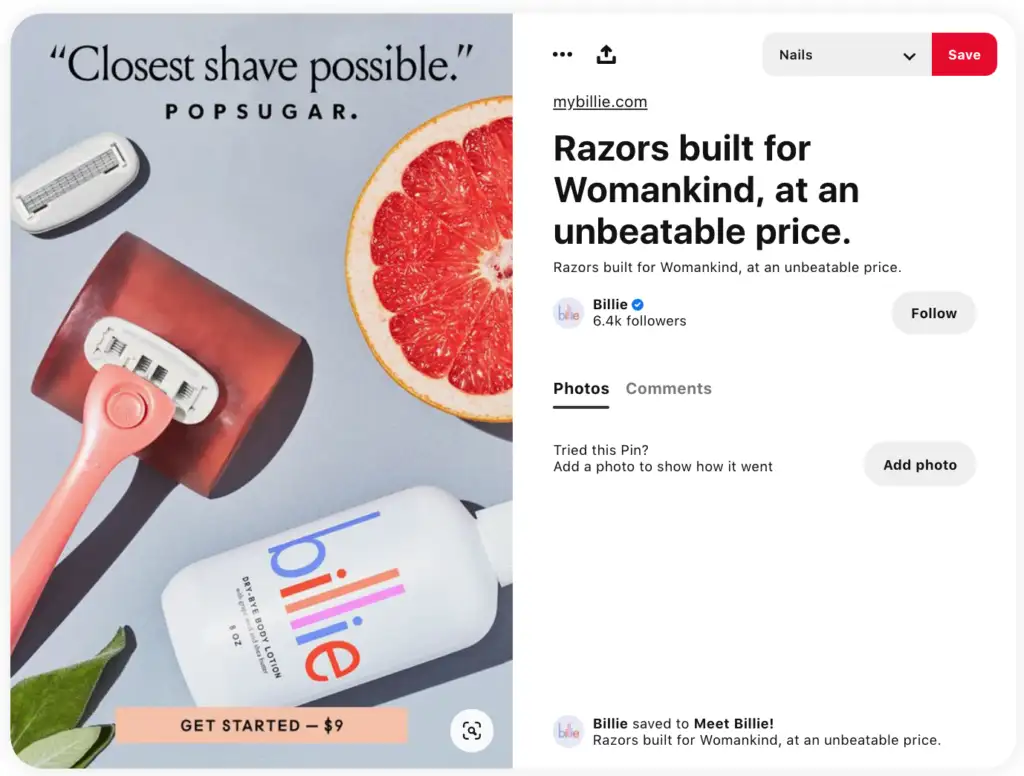 Want to learn more about Rich Pins on Pinterest? We go into the details in Later's Ultimate Guide to Pinterest Marketing.
3. Offer Pinterest-exclusive Promotions to Would-be Buyers
Another great way to earn money on Pinterest is to offer a unique promo code to your followers and people who come across your Pin in their Home Feeds.
Special promotions are highly effective and perform well year-round. Plus, offering a limited-time code that's only available on Pinterest creates a sense of urgency, which may boost clicks and engagement with your account.
4. Promote Your Products With an Ad Campaign
Pinterest Ads are one of the most effective ways for businesses to boost traffic, raise awareness, and earn on Pinterest.
To better target Pinterest Ads and reach the right shopping audience for your brand or product, you may use demographics like age and location, as well as categories and interests.
Once an ad is created in Pinterest Ads Manager, it will appear in users' Home feeds in relevant search results, and it will look almost identical to a regular Pin.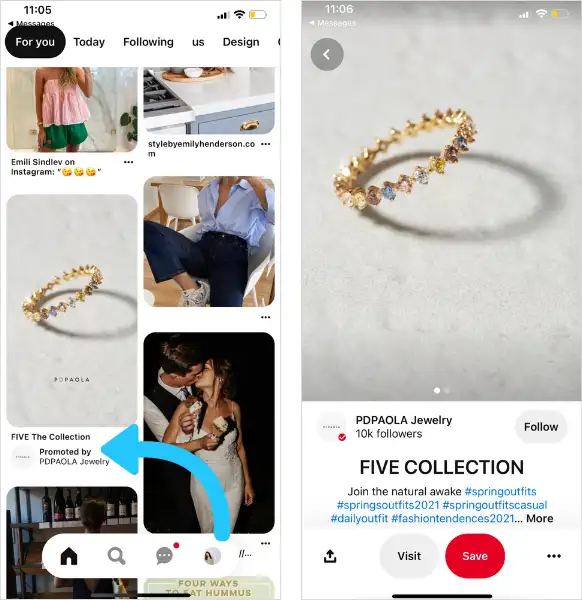 TIP: You don't have to create Pinterest Ads from scratch. If you want to create an ad with a product you've already pinned in the past, you can choose to promote existing Pins.
5. Catch Your Audience's Attention With Video Pins
Video Pins are an ideal way to engage an audience, tell a story, show your products or services in action, and, ultimately, sell on Pinterest.
Video Pins start playing automatically on the desktop, making them an excellent way to grab the attention of viewers.
Consider using video on Pinterest if you're already posting video content on platforms like Instagram, Facebook, TikTok, and YouTube.
6. Create Story Pins to Engage With Your Community
Story Pins, with their tappable format, allow creators to tell dynamic and visual stories, which is an efficient technique to build brand loyalty and inspire sales.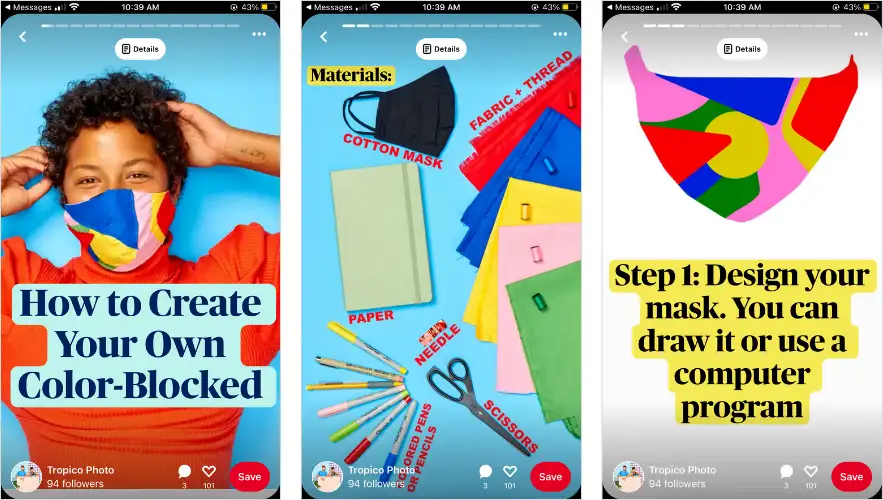 Story Pins are shown on mobile as a series of image or video pages that may be tapped through, much to Instagram Stories.
But, unlike Instagram Stories, Story Pins do not disappear after 24 hours, making them a more lasting opportunity to engage with your audience.
NOTE: Story Pins are only available to a select number of Pinterest Creators at the moment, but could be rolled out further in the near future.
7. Collaborate with Brands and Creators to Reach New Audiences
Working with other brands or creators is a great way to increase sales once you've established yourself as a business on Pinterest.
Working together enables you to tap into each other's audience and expand your reach.
It doesn't stop there. Collaboration with like-minded brands or creators allows you to be creative while also increasing brand perception and generating social buzz.
For example, West Elm regularly partners with innovative creators on their Pinterest account, sharing their unique design stories to inspire their community:
8. Create "Try On" Product Pins
Pinterest's AR Try On, like the augmented reality shopping features we've seen on Instagram, allows users to virtually see how a product looks through their phone camera.
This could be a game changer when it comes to shopping the latest trends — and it's available straight from the Pinterest app.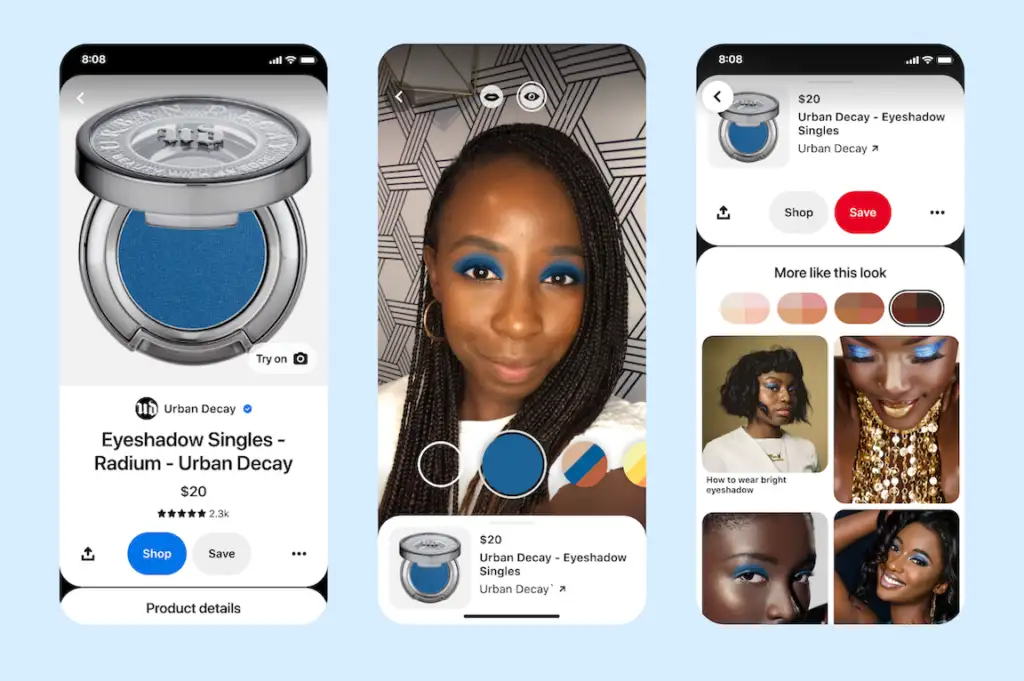 NOTE: This feature is still in limited beta. To request to be part of the beta test, Pinterest recommends reaching out to a Pinterest Account Manager.
9. Include Affiliate Links in Your Pins to Earn Commissions on Sales
Affiliate links on Pinterest can help you make money if you're an influencer or creator.
If you're familiar with affiliate marketing, it's a way to promote a brand's products or services through trackable links generated by an affiliate network like ShareASale, CJ Affiliate, or Rakuten.
You may then insert these links anywhere on the web, like in a Pin, and earn a commission on the clicks or sales generated by those links.
TIP: For influencers and creators, affiliate links can be incredibly useful for monetizing a blog or social media presence.
That brings us to the conclusion of our top 9 Pinterest sales tips.
There are more ways to make sales on Pinterest than ever before thanks to the platform's broad set of tools and features.
Ready to kick-start your Pinterest sales strategy? Contact Now and Get a Free Consultation!
No matter who you're trying to reach, they're all on Pinterest searching for new ideas. Divine Social uses Pinterest to provide a proven methodology and full-funnel advertising. With ARF Services, businesses could drastically reduce the time it takes to deploy new ad creatives and campaigns! Try it free today.