Consider these key topics before signing any digital marketing contract to ensure your marketing money is well spent.
Knowing how to select an SEO company may be the difference between an increase in organic traffic, better ranking, and higher conversions and a decrease in organic search ranking. We've even had clients come to us after a prior SEO service used black hat practices that caused their website to disappear from Google search results.
A strong search engine optimization strategy is a must-have marketing tool for any company. Unfortunately, the search engine industry is difficult to access since every company wants to be at the top of the results for their terms. To establish an online presence, a company must engage in an efficient digital marketing strategy with a company that can create results.
Choosing the best SEO business may be a difficult task, especially with so many new SEO companies showing up. Here are some things to look for and think about when selecting an SEO company.
TIPS FOR CHOOSING YOUR NEXT SEO AGENCY
Look at an Agencies Portfolio
Choose an Ethical Company
No one can Guarantee the Results
Check an SEO Companies Reviews
Expect Transparency – Don't fall for "Secret Sauce"
Cheap, Fast, and Easy Don't Exist
They Provide More Than Just a Report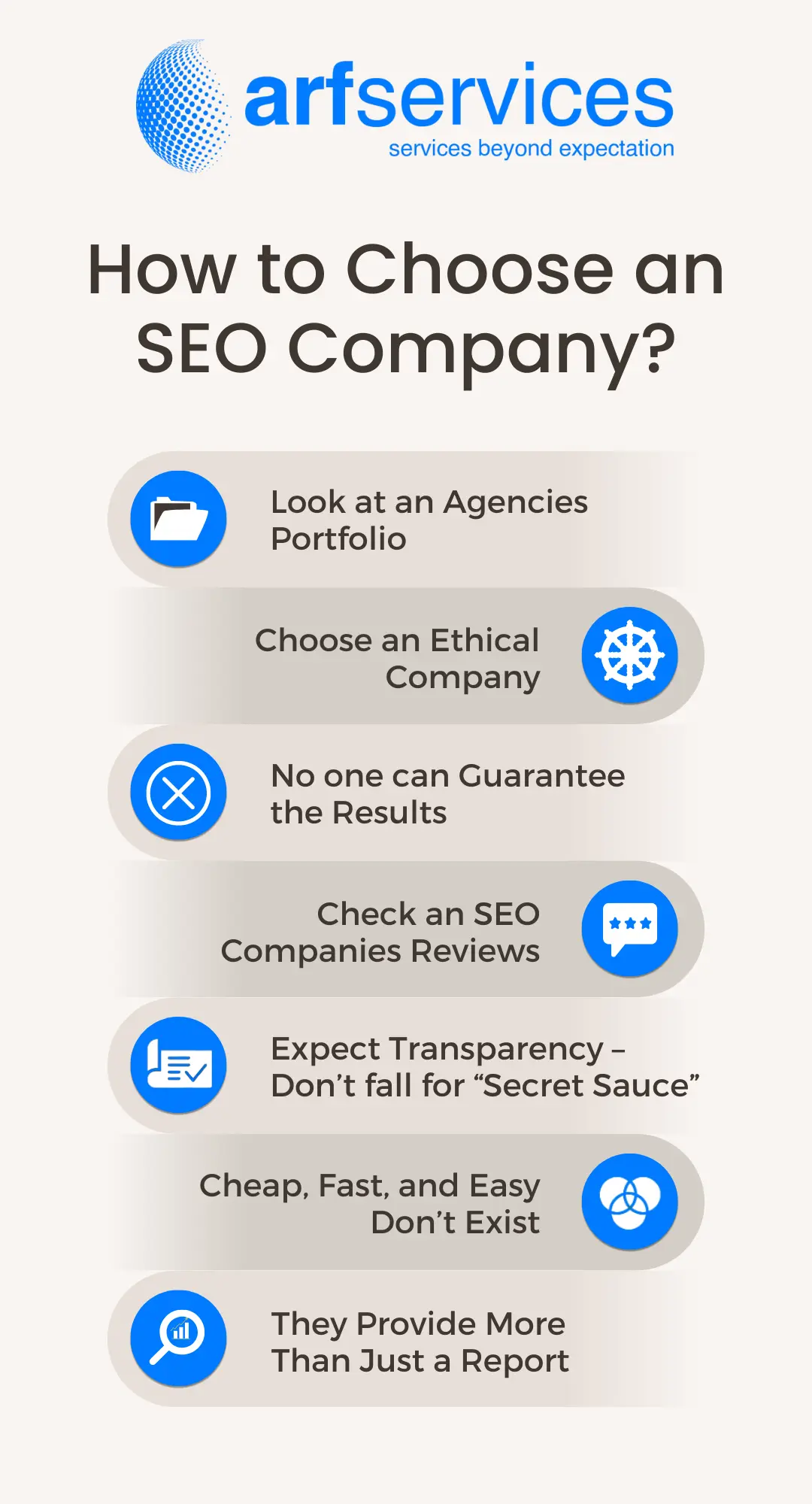 1. Look at an Agencies Portfolio
Analyze their work, beginning with their website. Has this company's website been effectively optimized for search engines? Do they show in keyword searches for their keywords? If they haven't been able to help themselves in developing a strong internet presence, chances are they won't be able to help you either. Look out for some of the other businesses they've promoted and their Google rankings.
2. Choose an Ethical Company
Before exploring SEO providers, any business owner should become familiar with the fundamentals of SEO. Knowing how it works, what it is, and how realistic achievable outcomes are important when separating ethical and shady SEO techniques.
Before establishing a contract with an SEO business, ensure sure they follow search engine criteria. Black Hat SEO, which refers to improper optimization practices, might generate quick traffic but will eventually prevent you from having any online presence. Is the job done in-house by the agency, or is it outsourced to third parties in another country?
3. No one can Guarantee the Results
Pay attention to what an agency guarantees, which is similar to ethics. If a company claims to "guarantee" a specific position on Google or a certain quantity of visitors to your website, be careful. Nobody can guarantee a certain rank because Google refuses to pay for priority submissions or higher positions, so the promise you want is that they will follow the search engine standards for quality of work and the search engine optimization process.
The search algorithm at Google is constantly being modified and adjusted. It's important to pick an agency that remains on top of these updates and is up to current on the latest developments.
4. Check an SEO Companies Reviews
Read the testimonials and reviews for the SEO service company you are considering working with. Other remarks can be found online in addition to the testimonials on their website. You are more likely to locate them if they have a large number of negative reviews. Check their BBB profile and social networking sites to see how they interact online and get a feel of their work culture.
5. Expect Transparency – Don't fall for "Secret Sauce"
A company that is eager to respond to all of your inquiries and completely clear any concerns by providing SEO facts is a good sign. Be careful of companies that keep their processes, methods, or workers hidden. If they are hiding anything, it is quite possible that they are using black hat SEO and operating under unethical rules. SEO isn't rocket science, nor is there a magic formula. A good SEO company will share its approach, explain why they do things the way they do and teach you more about SEO and how it works.
6. Cheap, Fast, and Easy Don't Exist
While digital marketing is the least expensive method of promotion, proper SEO takes time and money. Any company that costs a one-time price is generally not worth it because it is not immediate and cannot be completed quickly. Search engines' algorithms are always changing, and digital marketing should be a gradual, ongoing process to achieve the greatest results over time. A monthly or annual contract is a better approach to managing SEO to ensure that the SEO business maintains the results and promotes your site continuously.
There is no quick and cheap solution. If it were simple, quick, and cheap. Then everyone would be number one for the terms they choose.
7. They Provide More Than Just a Report
Before you start a company, inquire about how they disclose results. Google Analytics is great, but it's also important that they analyze where the site is going and what is working or not working. The best SEO companies tailor your marketing strategy depending on the past month's success. Make sure they're not only providing you with numbers but also evaluating and understanding the information to assist your company's growth.
More information about our process at ARF Services may be found on our digital marketing page.


For a free consultation, call +92 (309) 514-8449 or fill out our enquiry form, and one of our marketing consultants will contact you shortly.