A brief explanation of Search Engine Optimization and how it can affect your ability to get more business.
When we say "search engine optimization," we mean helping a website rank high in organic search engine results. The goal is to get your page seen by as many people as possible while staying ahead of the competition. Many factors come into play, but if you want a good SEO campaign, content strategy is king.
If you want your website to rank higher, you'll need to concentrate on various additional aspects and strategies in addition to a great content strategy. Many of them will be completed eventually as your website grows.
When developing your website, ARF Services begins with a search engine-friendly foundation. If you already have a site that can be optimized, we will look at it and see what we can do to improve its rating. If you're new to the game, we'll teach you all you need to know.
When you choose to work with ARF Services, you can expect us to be open and honest about our strategies for increasing traffic and ranking. We do not use questionable methods that might result in your site getting blocked from search results. In the world of search marketing, reputation is important, and we are not willing to risk ours or our clients' for a brief reign of the top spot in search engine results.
Dive Deeper into SEO
1. How Does SEO Work?
Consider SEO as a map to better understand how it works. Search engines use "crawler" code, which is constantly following links on the internet from one site to another. As the crawlers search the internet, they collect information that may be used to create an imaginative map.
A website that is linked to many other websites is comparable to a city with many roads leading into it from all over the world. A less popular website may be compared to a small town with only one or two roads leading in.
When both sites write on the same topic (save for the number of links to the website), the web page published by the city-like site has a better chance of ranking higher in the search results. The search engine crawlers would discover brand-new content sooner.
So is SEO just about getting more links?
Nope! In reality, each search engine has its own set of criteria for deciding how to rank a website in its results. A search engine's algorithm is influenced by a wide range of factors.
These Google ranking methods are made up of a variety of algorithms. The algorithms consider factors such as:
The words of your query
Relevance and usability of pages
The expertise of sources
Your location
Your settings
Search engines are also continually upgrading their algorithms in order to deliver the best results to users. What works one year may not work next year.
When working to improve a site's SEO, optimization will include the following:
Title Tag and Meta Description optimization
Internal Link Optimization
Earning external links (backlinks) to the website
Site Speed
Measuring user experience to improve the time they spend on your website
Producing content to fulfill a user's search intent.
When you fulfill your audience's search intent, you drive more traffic to your page.
When you fulfill your audience's search intent, you drive more traffic to your page. Ranking well for terms that are rarely searched for or have no relation to your business would be a waste of time and server resources. So, when trying to improve a page's SEO, we always want to keep the user's intent in mind.
2. Why is SEO important?
The two goals of SEO are to attract high-quality traffic and to appear at the top of search engine results for terms that potential customers could search for. Rather than paying for ad space at the top of search results, this is done to increase organic website traffic.
Organic search results often cover more user searches and attract more clicks than paid ads. Paid advertising may complement other marketing efforts to get quick leads for a new website. In the long run, however, you want to appear organically in search engines since it will give you a better return on investment.
Rich results and knowledge panels, for example, can help strengthen your company's brand and image. These techniques work with other SEO practices to reach a common goal.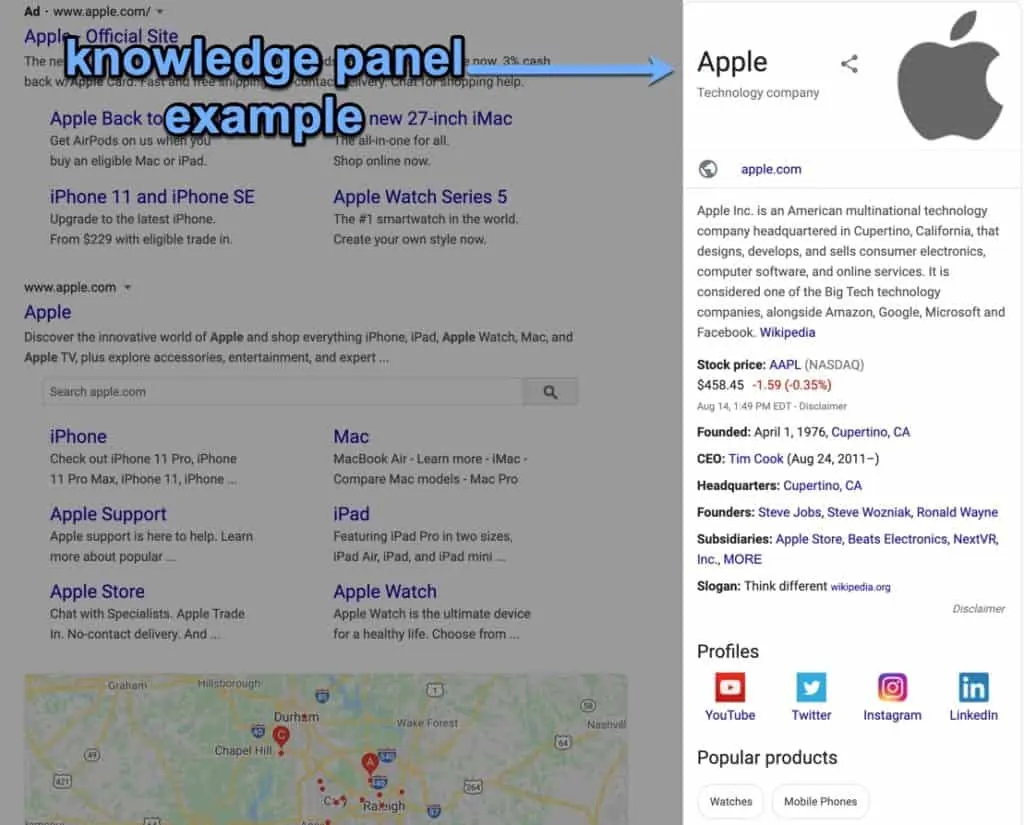 3. Trust, Authority, Expertise & Search Rankings
When working on a website's SEO, search engines consider trust, authority, and expertise as part of the ranking algorithm. Technical aspects that lead to trust include:
Use of SSL certificates (especially for e-commerce websites)
Content on a website (like having a privacy policy page)
Here are some questions to consider while attempting to build the authority of your website:
Is your website an authority in your field or business sector?
Do reputable websites within the same field link to pages on your website?
Does your business have reviews on Google My Business or Yelp?
If you answered no to any of these questions, it's time to get to work.
ARF Services can help your website become an authority. We keep an eye on Google's rules for evaluating a page's expertise, authority, and trust, as well as feedback from its more than 10,000 Search Quality Evaluators. This allows us to stay on top of what Google looks for in a high-quality website.
4. Link Building & Ranking In Search Engines
It is critical that your website keeps good company. You don't want low-quality or spammy websites linking to yours.
We focus on three factors when working on link building:
Inbound Links (backlinks)
Producing Content
Internal Links
Inbound Links/Backlinks
Google's algorithm is smart and continually changing. Google specifically does not want you to pay for connections from a website or try to spam its algorithm by artificially generating links to your website when working on getting inbound links.
Registering your website in relevant trade organizations or business directories is a secure and effective approach for obtaining backlinks. This will make it easier for customers to locate you.
Is your company listed on Google Maps, Apple Maps, Waze, Yelp, and your business network? If they haven't yet, they should. These are all beneficial backlinks that may be established without fear of being penalized by search results.
Link building don'ts:
Don't purchase links
Don't engage in a link exchange
Don't add yourself to low-quality directories
Link building do's
Links should be earned
Links should come from authoritative pages
Links should come from topically relevant sources
Producing Content
Producing content that people want to see is the best way to create backlinks to your website. This includes articles from relevant blogs, useful internal pages, and social media content. You must provide visitors with something of value in order for them to not only return to your site but also see you as an authority figure.
If you write the best piece that solves a challenging subject that occurs frequently in your sector, your content will organically draw backlinks from other websites as individuals find it. This is a natural, organic way to create backlinks that provide people with value.
Internal Links
Links to other internal pages on your website are also extremely important since they help users find what they need. They also provide search engines with a better knowledge of your website's structure, establish a hierarchy, and provide an understanding of what a page is about.
Hopefully you now have a better understanding of SEO.
If you want to improve your website's performance or resolve all of your technical SEO issues, Request a free website audit with us.